Veterinary Diagnostic Services
in Forest, VA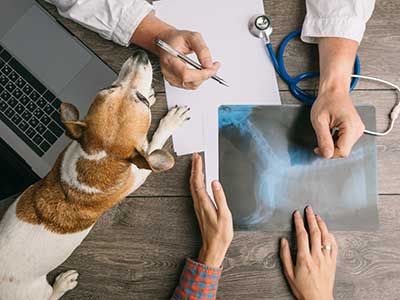 It's never fun to watch a pet struggle with symptoms of an underlying condition. Whether you think your furry friend swallowed a foreign object or broke a bone, our team at Lake Forest Animal Hospital can help. We provide advanced diagnostic services for dogs, cats, and pocket pets. These services include:
Ultrasounds to check for issues such as tumors, foreign bodies, and bladder stones
Pregnancy ultrasounds for identifying puppy heartbeats
Digital X-rays to see your pet's organs, bones, and tissues
In-house labs, including urine checks, complete blood count (CBC), and blood chemistry tests
These diagnostic services allow us to get a more complete picture of your pet's health. A digital X-ray, for example, can spot conditions including pneumonia, arthritis, and tumors. Ultrasounds can help us monitor a pregnant female and her puppies which is important to a successful whelping experience for a mama dog. Urine and blood tests allow us to diagnose diabetes and kidney conditions, so we can begin the treatment your pet needs for a healthy life.
We can do all of our lab testing right here, which means you'll get same-day results. Keep an eye out for signs that something is bothering your pet. Any changes in eating, sleeping, drinking, defecating, or urinating could indicate a problem. At Lake Forest Animal Hospital, our caring veterinary team is here to help.
Once we know what's going on with your pet, we can put together a treatment plan. This might include surgery, pain management, laser therapy, or even dental care. You can rest assured that our compassionate and skilled team will take excellent care of your beloved pet.
Schedule an appointment today to get your furry family member seen by one of our skilled veterinarians.