Top Quality Veterinary Care
for Pets in Forest, VA
Welcome to our corner of Lynchburg! Lake Forest Animal Hospital has been serving this wonderful community since 1998. We've spent the years building relationships with every pet who walks through our doors—and with pet parents like you.
We are thrilled to announce that we have merged with Lynchburg's Addison Animal Hospital. Dr. Scott Miller and his staff are now part of our team! Together, we will continue to provide outstanding veterinary services for our furry friends in and around Lynchburg. Give us a ring to set up an appointment or learn more about our merger.
Services We Offer
We provide leading veterinary services for cats, dogs, and pocket pets. From your 14-year-old kitty to your tiny sugar glider baby, we look forward to serving your furry friends. Our caring team can give your pet important dental and preventative care.
When your pet needs advanced diagnostics or surgery, we're here to help.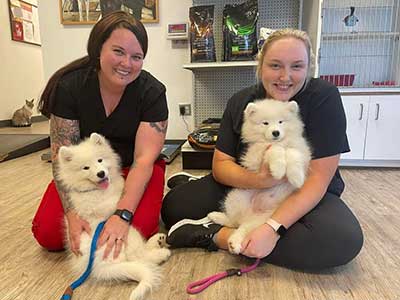 Where to Find Us
We'd love to connect with you on our social media pages. Along with contacting us here on our website, you can find us on Facebook.
You might also spot us out in the community during one of the events we host to support the people and pets we love. Stay tuned for information about rescue organization benefits, rabies vaccine clinics, and microchipping events.
We look forward to seeing you and your furry family members soon!