Meet Our Hospital Staff
Dr. Angela Holley

DVM
Dr. Angela Holley is a long-time member of the Lake Forest family. She started out working part time until her kids got older and started to leave the nest. She is now our full time medical director and we don't know what we would do without her! She graduated from Virginia Tech and has three great kids, one cat and two very happy dogs.
Dr. Scott Miller

DVM
We are thrilled to have Dr. Miller join our team. Dr. Miller owned Addison Animal Hospital from 2001 until he decided to merge with Lake Forest in 2023. He brings a wealth of experience. He received his undergraduate degree from Virginia Tech and his DVM from the University of Georgia. Dr. Miller enjoys a close-knit relationship with his clients and will bring advanced surgical skills to our practice. He is an active member of the Lynchburg community, through his church, the Lions Club and county school board. Dr. Miller is an avid fisherman, gardener, woodworker and enjoys working on his farm.
Dr. Julie Van Scoik

DVM
Dr. Van Scoik moved to our area from Pennsylvania, where she worked in a mixed animal practice. She is a graduate of Virginia-Maryland College of Veterinary Medicine. She loves to hike and enjoy time with her kitty River.
Mandy Jamerson

Practice Manager
Mandy has been with Lake Forest Animal Hospital since it opened in 1998. She graduated from NVCC with an Associates degree in Animal Science. Mandy does all the paperwork that Leo can't handle and tries to keep the practice running smoothly.
She has two daughters, three dogs, three cats, a chinchilla, and four ferrets. Mandy loves to raise babies, especially wildlife.
Leo

clinic kitty
Leo is our clinic kitty. Many days you'll see him laying around waiting for head bumps and belly love. We adopted him in 2012 from animal control. He was picked up in pretty rough shape and by the time he was better, we were all in love.
Cathy Bush

LVT
Cathy has been with us for many years. She is a licensed veterinary technician and many days she is found monitoring anesthesia for our doctors. She has multiple dogs and can be found doing agility with them on her days off.
Chelsea

Staff Supervisor
Chelsea started with us in August of 2021. She is the hardest working person I have ever met. To add a cherry on top, she is extremely kind and so smart! Chelsea has dogs, cats and chickens at home. She also does a little rehab on the side. We wouldn't trade her for anything!!
Sharon

CSR
Sharon has been with us for many years. She previously assisted Dr. Amy and then moved to reception afterwards. It's great having an honest and dependable employee like her.
Jessica

CSR
Jessica came to us from Addison Animal Hospital! We are so happy to have another CSR. She has 2 dogs, 3 cats, and 2 beautiful children.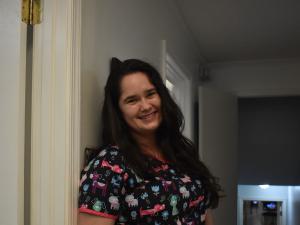 Cailin

Assistant
Cailin started with us in October of 2021. She has enjoyed working with animals so much that she applied and was accepted to the LVT program at Blue Ridge. She has two wonderful cats at home, Carl and Mustache! She also recently got an adorable dog she named Cheers!
Anna

Assistant
Anna started with us in Jan of 2022. She is a commited employee who is very easy going and the animals seem to really love her.
Brittany

Assistant
Brittany came over with Dr. Miller, and we are so glad she did! Brittany keeps us on our toes and always makes everyone smile. We are so glad she decided to join the Lake Forest family!
Emma

Assistant
Emma started with us in June of 2023. She has an adorable little Doodle named Luna. She is a little quiet, but is trying hard in our fast paced environment. We are so happy to have such a hard working young lady!
Courtney

Assistant
Courtney moved to Lynchburg from out of state. She came with her husband who is in medical school. She started in June of 2023 and came in with some experience already under her belt. She continues to learn everyday.
Meet Our Kennel Team
Lexy

Manager of Boarding and Grooming - Dog Training
Lexy started managing the kennel in March of 2023. She is our dog trainer, a former groomer, and has a lot of other experience with pets. She is doing a great job and we are so very thankful to have her!!
Haleigh

Assistant Manager at Boarding and Grooming
Haleigh is an avid dog lover who is friendly, outgoing and loves every pet who enters the facility. She has been part of the Lake Forest family since Feb. 2023.
Julia
Julia came over with the staff from Addison Animal Hospital!! She brings many years of experience with her and we are so happy she's here.
Katie
Katie is an avid pet lover and joined the Lake Forest family April of 2023. She enjoys meeting and spending time with all of our furry friends.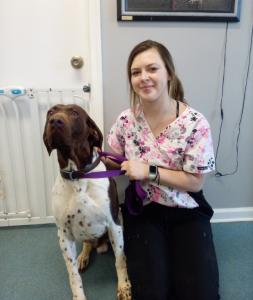 Kayla
Kayla is an outgoing and excitable member of the Lake Forest team. She has as much energy as many of the furry kids who visit us! She joined the Lake Forest family in December of 2022.
Tiffani
Tiffani also joined us from Addison Animal Hospital. She has many of her own pets and can't wait to make yours an extended part of her family!
Meet Our Groomers
Jade
Jade has been grooming for about 15 years and has been with Lake Forest for much of that time. She loves what she does and it shows. Her clients, both human and four-legged, adore her!