Quality Grooming
for Forest's Pets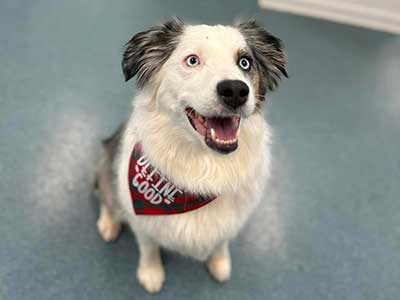 If you need dog grooming services, our groomers at Lake Forest Animal Hospital offer a range of services to get your pup feeling fresh. And as much as we love them around here, we don't currently offer grooming services for cats or pocket pets.
Our professional dog grooming services include:
Nail trimming
Ear cleaning
Bathing
Fur trimming
Full grooms/cuts
We serve all dogs, whether they're tiny or huge or somewhere in between. As our groomers work with your dog, they'll keep an eye out for any new lumps or bumps beneath your pet's skin or signs of infection in their ears. If we see anything concerning, we'll let you know. As a veterinary grooming service, we always keep your pet's health in mind.
Before Your Pet's Grooming Session
All pups require proof of up-to-date vaccinations before they can come in for their grooming appointment. If you aren't sure whether your dog needs any boosters or vaccines to stay current, we can help figure that out during a preventative appointment.
Ready to get your puppy groomed from head to tail? Call us at (434) 385-6468 to reserve an appointment. You can even book a grooming session at the tail end of a boarding stay so your pup can come home fresh and clean from all that play.